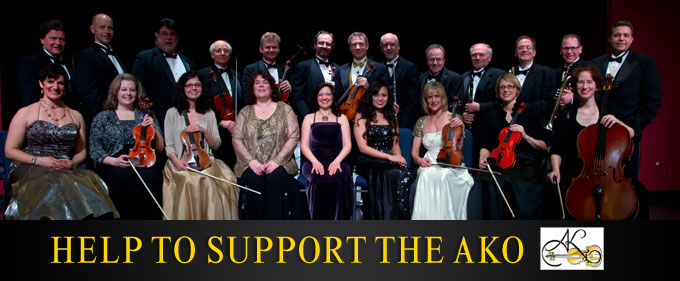 Please help support The Anthony Kawalkowski Orchestra's mission of continuing to bring the gift of beautiful music from their hearts to yours. It has always been Tony's dream of creating and producing ONE OF A KIND concerts that touch the hearts of all who hear it!
Were you at The Love and Peace Christmas Shows? Gaining both regional and national exposure, with the heart warming homecoming of a marine and his family on stage, this special show was set to the beautiful music of our full 30 piece Orchestra, Vocalists and Special Guest Wayne Messner!
Due to the overwhelming positive response of the Christmas Shows, we are excited to announce that we will be coming back to the Copernicus Center on December 6, 2014 for our AKO Christmas Show!!
We endeavor to bring more Seasonal Productions of this quality and scope to our audiences. To produce these, we rely on the generous gifts of our loyal supporters, in the form of both personal donations and corporate sponsorship. With your help, we can continue to bring these special shows to YOU through the year.  And, thank you with sponsorship recognition, VIP seating and unique corporate marketing exposure.  For more details, please email or call Tony (see CONTACT Page).
CONTRIBUTE VIA PAYPAL OR BY CHECK
Thank you so much for your generous gift and for your belief in the Anthony Kawalkowski Orchestra.
Pay by check:

Mail a personal check to: From The Heart Musical Productions, Inc. 5833 N Linder
Chicago, IL 60646-6532

 Pay via PayPal:
A very big THANK YOU to these sponsors of our 2014 AutumnFest Show at Sun City Del Webb: Tom Peck Ford of Huntley, IL; and White Eagle Banquets and Restaurant of Niles, IL!!
THANK YOU to our 2013 Christmas Show Sponsors and the donations of our friends and supporters including Copernicus Center, St. John's Brebauf Catholic Parish in Niles, Hillcrest Nursing Home of Round Lake, A Major Music of Gurnee, Bob's Gift Basket's of Addison, Buppio, Derrick Moy Video Services of Wheeling, Gale Street Inn, Killian Communications of Santa Monica, CA, Life Quilt Foundation of Mundelein, Minuteman Press of Gurnee, The Sweet and Savory Spot of Westmont, White Eagle Banquets of Niles, Whole Foods of Park Ridge, Jenny-Chang-West, Don and Julie Weakley, Joseph Chervin, Jamie Zaurga, Maria Bappert, Ruth Munson ,Wayne and Katheleen Messmer and an anonymous donor in memory of a veteran!