The Anthony Kawalkowski Orchestra in Concert
We are all familiar with that serious atmosphere one may find in a concert hall. With us, it's different. Tony's orchestra plays from the heart with the motto: Let's have fun!
Performed in acclaimed theater productions and a popular choice for summer "Concerts In The Park", Tony and the AKO combine into one concert, memorable performances of some of our greatest musical treasures. If you like Andrea Bocelli, Andre Rieu, The Boston Pops, Sinatra and Big Band, you will love this show! These alongside the swinging brass of Glen Miller and crowd pleasing favorites such as Orange Blossom Special and The Beer Barrel Polka with that unique "AKO" touch! And be ready to sing-a-long to Sweet Caroline and other favorites as well!
Check Out AKO In Concert Highlights
Check Out AKO Christmas Show Highlights
Dance Orchestra & Ensembles
(Wedding Receptions, Cocktail, Dinner & Dance, Balls & Special Events)
Planning a wedding…birthday…anniversary…fund raiser…? The Anthony Kawalkowski Orchestra is one of the premier ensembles for special events in Chicago and the Midwest. What makes the "AKO" experience unique? From the moment the music starts, your guests will be out on the dance floor from start to finish. Tony and his staff work with your event planners to create an experience that will be remembered and talked about long after the last dance.
Our vast repertoire ranges from the 40's to current hits. Popular requests include sound-a-like Rat Pack, Elvis & Neil Diamond, Jazz/Standards, Big Band, Polkas, Rock and, of course, Tony's beautiful playing through the evening. From full orchestra to smaller ensembles, the Anthony Kawalkowski Orchestra will tailor the format to put the "special" in your special event, keeping them dancing all night and facebooking the next day!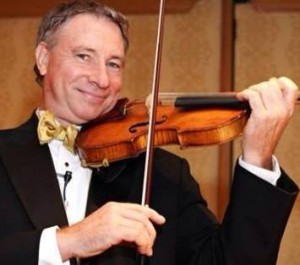 Musical Messages & Surprise Serenades
Do you have a special occasion, loved one, birthday, anniversary, good friend, or someone you want to know better…and want to SURPRISE them with a special message or serenade? Tony will perform a heart-warming Musical Message in person, at your request. Imagine dinner out with that special someone, on that special night and being serenaded by Tony playing "Once Upon A Dream"…or, lifting the spirits of a co-worker or good friend with their favorite song…or, a surprise performance of "My Way" on the day of your dad's retirement…or…you get the "message"?
Tony plays solo or with accompaniment to suit the special occasion. We usually show up unexpectedly, often with flowers or balloons, sometimes a trumpet fanfare, strolling violins, or with a guitar and vocal accompanying Tony. And we can capture the moment with pictures and a video. Create an unforgettable memory! Call for more details.
A country music fan gets a surprise birthday serenade at work, as Tony plays the Orange Blossom Special! (plus more Musical Messages)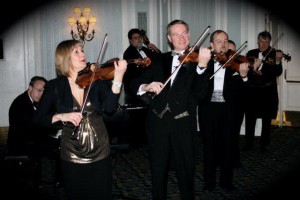 Strolling Violins & Musicians
(Weddings & Receptions, Luncheon/Dinners, Anniversaries, Funeral Ceremonies)
Tony is truly one of Chicago's premier Violinist and will add that magic touch to your event with his Trio of violin, keyboards and bass. You have not heard the magic of a strolling violin, until you hear Tony. Tony's repertoire is too big to list here, in fact, he's lost count. If your guest requests it, Tony has probably played it and, like so many songs, turned it into his own!
ePress Kit: www.reverbnation.com/rpk/akorchestra
Twitter: www.twitter.com/tonykviolin
Facebook: www.facebook.com/anthony.kawalkowski
E-mail: tonykviolin@gmail.com